We Handle All Repairs, Both Big and Small
Professional Storm Damage Repair Services
At Advanced Exteriors of Wisconsin, we understand the devastating impact of storm damage on your home. Our expert team is here to provide comprehensive storm damage repair services, restoring your property to its former glory. With years of experience and a commitment to excellence, we ensure reliable solutions that withstand the test of time.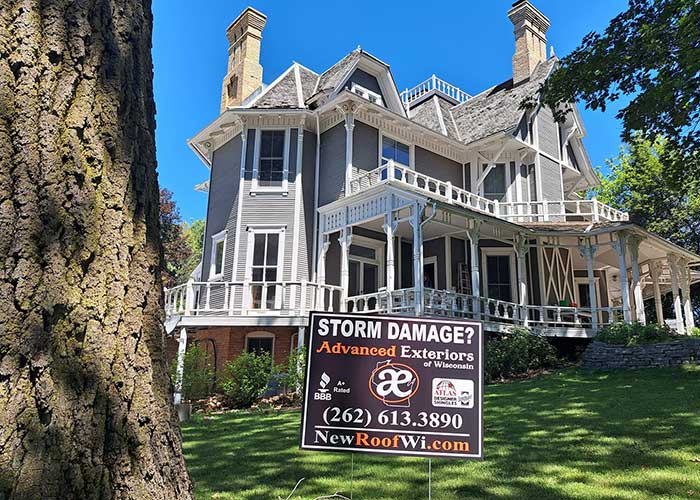 Swift and Efficient Storm Damage Assessment
When a storm strikes, immediate action is crucial. Our skilled professionals promptly assess the extent of the storm damage, identifying areas that require immediate attention. From roof damage to siding issues and everything in between, we leave no stone unturned to provide a comprehensive assessment.
Comprehensive Storm Damage Repair Solutions
Our team specializes in a wide range of storm damage repairs. Whether it's repairing a damaged roof, replacing shattered windows, or restoring damaged siding, we have the expertise to handle it all. We use high-quality materials and proven techniques to ensure lasting results, giving you peace of mind in the face of future storms.
Expert Restoration and Rebuilding
Storm damage can be overwhelming, but we're here to guide you through the restoration and rebuilding process. Our experienced professionals work closely with you to develop a customized plan, addressing all aspects of the damage. From structural repairs to cosmetic enhancements, we restore your home to its pre-storm condition while also implementing necessary upgrades for improved durability.
Minimize Future Storm Damage Risks
Preventing future storm damage is as important as repairing the current damage. Our team not only restores your property but also provides expert recommendations to minimize future risks. From installing impact-resistant roofing materials to reinforcing windows and implementing proper drainage solutions, we take proactive measures to safeguard your home against future storms.
Contact Us for Reliable Storm Damage Repair
When your home suffers storm damage, trust the experts at Advanced Exteriors of Wisconsin for reliable and efficient repairs. We prioritize your safety, delivering prompt services to mitigate further damage. Don't let storm damage take a toll on your property – contact us today at (262) 613-3890 for expert storm damage repair solutions.